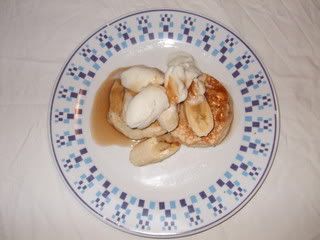 These were an experiment as I have never made pikelets with soy milk and without eggs. They ended up delicious. I had mine with sliced banana, So Good Vanilla Bliss icecream and maple syrup. Hubby had boysonberry icecream on his and he really enjoyed them. I never sift the dry ingredients whenever I make pikelets and it looked a bit lumpy but that was the apple sauce, I think.
Apple and Cinnamon Pikelets
1 and a half cups Self Raising flour
1 heaped teaspoon sugar
half teaspoon salt
1 tab baking powder
1 teaspoon cinnamon
1 cup soy milk

Half cup Apple sauce


Place dry ingredients into a mixing bowl. Add apple sauce and milk. Mix with electric beaters until combined. If too dry, add more milk but remember the batter will be slightly lumpy. The mixture should be thicker than the consistency of pouring cream.

Drop spoonfuls of the pikelet batter onto a slightly oiled hot frypan. When bubbles form on the top of each pikelet, and the bottom is golden, flip the pikelet over to let the other side cook. After a minute, remove pikelets and repeat with remaining batter.